What is a gypsy pepper?
Gypsy peppers are a flavorful and versatile pepper variety known for their sweetness. They have a wedge or cone shape, and their color transforms dramatically as they ripen. The peppers start pale yellow, then progress through shades of orange, reaching a rich, deep red at full maturity.
The beauty of gypsy peppers lies in their remarkably sweet taste, which intensifies as they ripen. Additionally, these peppers are milder than other chili varieties, making them suitable for those who appreciate the flavor of peppers but prefer less spiciness.
Gypsy peppers are a wonderful addition to a range of dishes thanks to their sweet flavor. They shine in salads, stir-fries, and roasts, where their vibrant color and sweetness can complement other ingredients. These peppers are also tasty grilled, which deepens their sweetness and adds a smoky undertone.
| | |
| --- | --- |
| | Gypsy pepper |
| SHU | 0 - 0 |
| Median SHU | 0 |
| Flavor | Crunchy and sweet, lack of heat |
| Species | Capsicum annuum |
| Origin | United States |
| Uses | Grilling, roasting, stuffing, and as a salad topping |
Are gypsy peppers spicy? How hot are they?
Gypsy pepper Scoville rating: 0 SHU
Gypsy peppers are renowned for their flavor, which is more sweet than spicy. With a Scoville rating of 0 units, these peppers contain no heat, making them excellent for those who prefer to keep their dishes mellow.
However, their lack of heat does not mean they lack flavor. Gypsy peppers are characteristically sweet, and that flavor intensifies as they ripen. Their sweetness works well in various dishes.
Compared to spicier peppers like the jalapeño, which has a Scoville rating ranging from 2,500 to 8,000 units, gypsy peppers are not spicy. Their heat remains consistent regardless of maturity or growing conditions, meaning you can always expect a sweet taste from these distinctive peppers.
🗺️ ORIGIN AND HISTORY
Where do gypsy peppers come from?
Gypsy peppers are a creation of the Petoseed Company, an enterprise founded in 1950 in Southern California. They are renowned for their significant contribution to developing disease-resistant hot peppers and tomatoes in the 1970s and 80s.
In 1980 the company bred the Gypsy pepper to resist the tobacco mosaic virus, a common disease affecting pepper plants. This pepper variety, a hybrid of the bell and sweet Italian bull horn pepper, was designed to withstand the virus. Recognizing its superior growth attributes and disease resistance, the Gypsy pepper was honored as a National All-American Selection in 1981.
Today, Gypsy peppers are primarily cultivated by small farms across the United States and Mexico. They are available at farmers' markets and specialty grocers.
🌶️ USES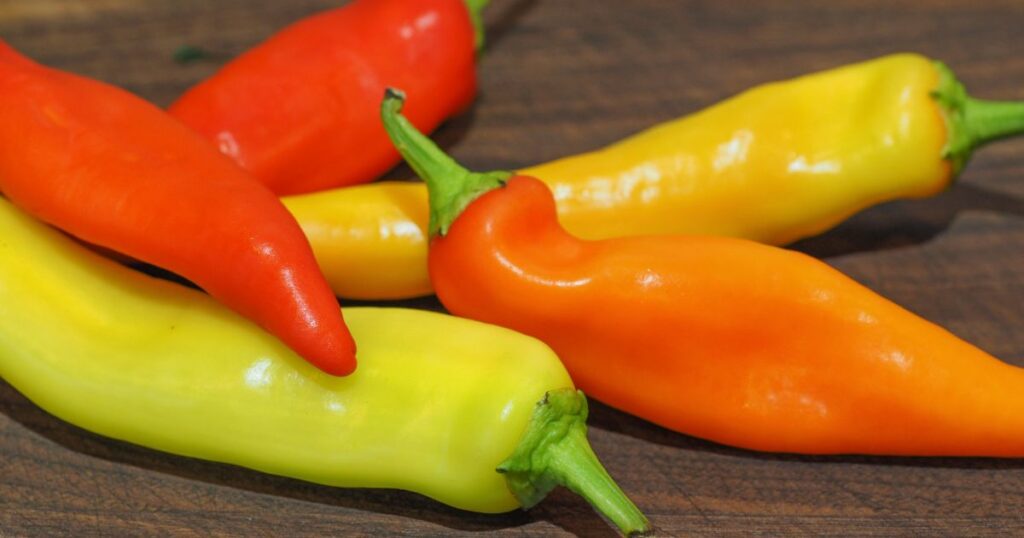 What are gypsy peppers good for? How to use them?
Gypsy peppers, known for their sweetness and crisp texture, offer many culinary possibilities. Their vibrant colors and unique form enrich dishes' aesthetics and lend a subtly sweet flavor suiting various palates.
Gypsy peppers are commonly pickled; they can be enjoyed as a standalone snack, garnish, or ingredient in sandwiches, salads, and pizzas. Moreover, pickling helps extend their shelf life, allowing you to savor their unique taste for an extended period.
Stuffed gypsy peppers are also an excellent way to use these versatile vegetables. They can be filled with cheeses, meats, or veggies, then baked or grilled until tender and bubbling. For a vegetarian option, stuff peppers with a combination of grains, beans, and spices before grilling or baking them.
Gypsy peppers also work well in salsa. Combine finely chopped gypsy peppers with tomatoes, onions, garlic, herbs, and spices to concoct a refreshing gypsy pepper salsa. The resulting salsa carries a mild heat that won't overpower your palate, making for a crowd-pleasing dip.
Another noteworthy use of gypsy peppers is in relishes. Chop the peppers with onions, vinegar, sugar, and seasonings to make a relish that adds flavor to burgers, hot dogs, or grilled dishes. If you want a creamy dip, blend peppers into a smooth puree, mix with cream cheese or sour cream, and enjoy with chips, crackers, or vegetables.
Finally, gypsy peppers can be sautéed along with onions and bell peppers to create a filling for fajitas. Adding these peppers to stir-fries, casseroles, pasta dishes, or stews introduces a unique flavor that adds depth and complexity. With their sweet, slightly spicy taste, gypsy peppers can elevate culinary creations.
✨ APPEARANCE AND TASTE
What do gypsy peppers look like?
Gypsy peppers, known for their distinct aesthetics, have a conical shape similar to a teardrop. They typically measure 4 inches long, with a tapering width of about 2 inches at the top, narrowing towards the tip. These peppers journey through a color transformation during their maturation phase. First, they are a pale yellow-green hue, gradually transitioning through vibrant shades of orange, eventually ripening to a deep, striking red.
How do gypsy peppers taste?
The flavor of gypsy peppers is as unique and intriguing as their appearance. They are considered among the mildest chili peppers with a Scoville heat rating of 0, the same as bell peppers. This makes them an ideal choice for those who want to enjoy the flavor of chilies without the spiciness.
When raw, these peppers exhibit a refreshing, sweet taste, complemented by their crunchy texture. Their sweetness intensifies as they ripen, making mature gypsy peppers an excellent choice for dishes where a sweeter note is desired. Gypsy peppers retain their crispiness when pickled while also inheriting a delightful tang from the vinegar, creating a complex blend of sweet and sour. Whether added to a dish or savored alone, gypsy peppers are a culinary delight.
🧑‍🌾 GROWING – GARDENING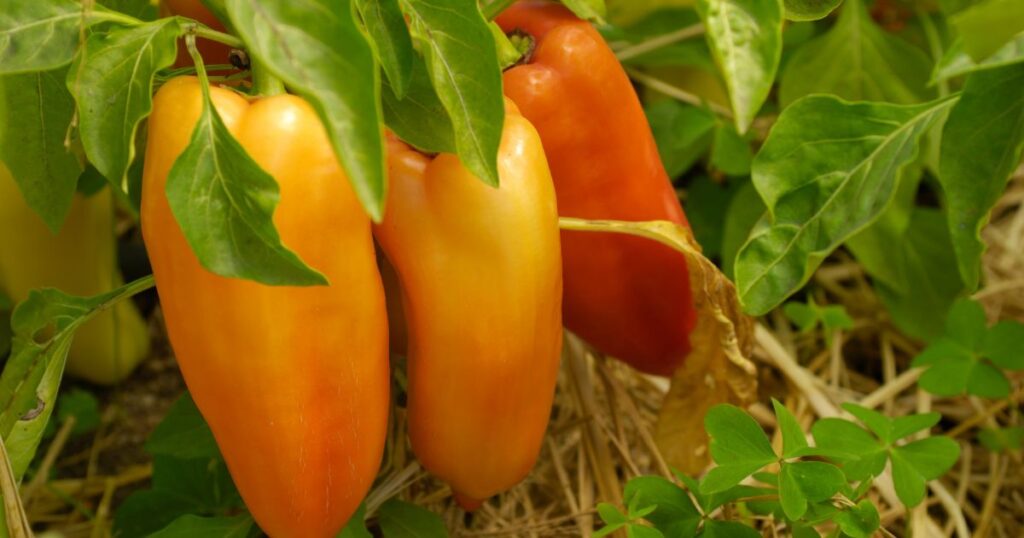 How to grow gypsy peppers?
Gypsy peppers, like banana peppers, are fairly easy to cultivate and thrive best in warm climates filled with abundant sunshine. These robust plants can be grown in pots or a garden bed. Gypsy peppers prefer well-drained soil and need regular watering and fertilization to encourage growth during cultivation.
When to pick gypsy peppers?
Monitoring the growth and color of gypsy peppers is key to determining the perfect harvest time. Gypsy peppers reach maturity within 60 to 70 days post-planting. However, the precise harvest time largely depends on flavor preference, which correlates with the color of the peppers as they mature, transitioning from a pale yellow-green to a deep red.
👨‍🍳 COOKING – RECIPES
Cooking / Recipe ideas for gypsy peppers
The versatility of gypsy peppers makes them a valuable addition to any culinary repertoire. They bring a balance of sweetness to a range of dishes. Whether pickling, grilling, or roasting, gypsy peppers shine with a unique flavor depth in various cooking methods.
Gypsy peppers hold a special place in home refrigerators when they are pickled. Enjoyed as a standalone snack or a topping for burgers, salads, or sandwiches, pickled gypsy peppers add a burst of color and flavor. Their tantalizing taste brings an exciting twist to the classic antipasto platter.
To pickle them, combine vinegar, water, salt, sugar, and spices, and bring them to a boil. Then pour the mixture over the gypsy peppers in a canning jar. Once cooled, refrigerate them for a few days before savoring their tangy goodness.
Deep-fried or pan-fried gypsy peppers, also known as gypsy frying peppers, are an irresistible treat. Coated with a light batter, these peppers are deep-fried or air-fried until they reach a golden-brown exterior and a tender interior. Frying enhances their natural sweetness, creating a delicious appetizer or snack.
Roasting gypsy peppers accentuate their natural sweetness. A drizzle of olive oil, a dash of salt and pepper, and a quick roast transform them into a delightful side dish. Alternatively, you can add roasted gypsy peppers to recipes for a mild yet flavorful twist.
Gypsy peppers are also delicious in more complex preparations. Whether stuffed, added to casseroles, incorporated into pasta dishes, or simmered into stews, they deliver a unique taste that enhances the overall dish.
The dynamic nature of gypsy peppers makes them an excellent ingredient for flavorful sauces, salsas, and dips. A classic gypsy pepper salsa with tomatoes, onions, garlic, and spices is a beautiful condiment for any meal.
🛒 WHERE TO BUY
Where can I buy gypsy peppers?
Gypsy peppers, with their exceptional taste and versatility, are not always readily available. However, they can be found at certain grocery stores, particularly those that offer a diverse range of vegetables. For a more local option, consider checking out specialty food stores, farmer's markets, or ethnic grocers that stock various peppers. Online shopping platforms also provide options to purchase gypsy peppers, either fresh or, in certain cases, pickled.
When selecting gypsy peppers, look for those that are firm with vibrant colors. Soft or wrinkled peppers, or those with noticeable blemishes, are past their peak and should be avoided.
Where can I buy gypsy pepper plants?
Those interested in growing gypsy pepper plants can explore garden centers or nurseries specializing in vegetables. Some online retailers supply gypsy pepper plants, delivering them to your doorstep. When choosing plants, ensure the stems are sturdy, the leaves are a healthy green, and there is no wilting or discoloration.
Where can I buy gypsy pepper seeds?
If starting from scratch appeals to you, gypsy pepper seeds are available online or at local gardening centers. When planting gypsy pepper seeds, adhere to the instructions provided on the seed packet. To promote growth, ensure they receive plenty of sunlight and are planted in well-draining soil.
🫙 HOW TO STORE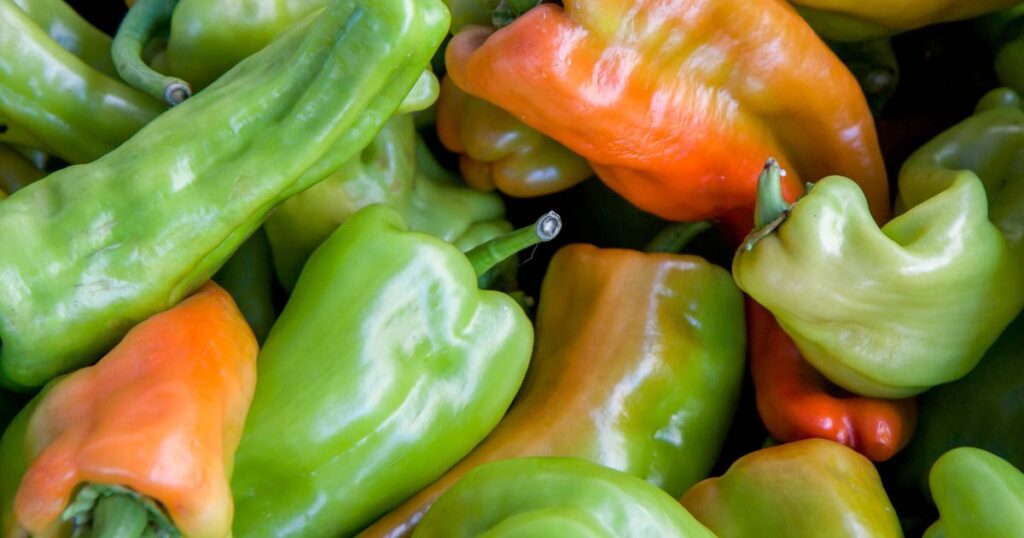 How do I store gypsy pepper?
Gypsy peppers can be kept in the refrigerator to maintain their freshness, lasting up to a fortnight. Place them in a sealed plastic bag or airtight container, and keep them in the refrigerator's vegetable compartment. This helps preserve their distinct texture and taste.
If you purchased gypsy peppers in other forms, such as in sauces or pickled, they should be stored in a cool, dark area like a pantry. Keeping the products in their original containers or transferring them to airtight containers is advisable. Ensure the lids are secured tightly to maintain freshness and prevent spoilage.
Can gypsy pepper be frozen?
Gypsy peppers can be frozen for future use. Thoroughly clean the peppers and remove their stems. Next, lay them in a single layer on a tray and place them in the freezer for a few hours. Once frozen, transfer the peppers to a sealed plastic bag or airtight container and store them in the freezer. They can be kept for up to six months, preserving their unique flavor and mild heat for later culinary adventures.
❤️‍🩹 HEALTH BENEFITS
Are gypsy peppers healthy?
Gypsy peppers are an excellent, healthy addition to a balanced diet. These peppers are low in calories, high in fiber, and filled with essential vitamins and minerals, qualifying them as an excellent vegetable. Gypsy peppers are particularly high in vitamin C, which boosts the immune system and encourages wellness.
Gypsy peppers are filled with an assortment of antioxidants, including carotenoids. These antioxidants deliver several health benefits, including protection from free radicals, potentially mitigating the risk of chronic diseases and aging processes.
Gypsy peppers also contain vitamins A, E, and B6, potassium, manganese, and other essential nutrients.
An important note: gypsy peppers are mild and sweet, lacking the capsaicin compound that gives spicier peppers their heat. As a result, these peppers are an excellent choice for those sensitive to spicy foods, ensuring many people can enjoy the health benefits they offer.
🔄 ALTERNATIVES AND SUBSTITUTES
What's a good gypsy pepper alternative?
Finding a suitable alternative to gypsy peppers can be a culinary adventure, with many options tailored to various preferences and dishes.
Bell peppers are a splendid choice as an alternative due to their similarly sweet and mild flavor. Additionally, these peppers come in various colors, adding visual appeal to dishes. Finally, while larger and more robust than gypsy peppers, they can be chopped or sliced to a suitable size for most recipes.
Another potential substitute is the banana pepper, known for its sweetness and hint of tanginess. Additionally, these peppers share a similar shape and color transition with gypsy peppers, making them a suitable alternative in raw and cooked dishes.
Cubanelle peppers, also known as Italian frying peppers, can be another good replacement. They have a similar sweetness to gypsy peppers and are slightly spicy. Cubanelle peppers are excellent for frying, grilling, and roasting.
For those looking for a touch of heat, consider Anaheim peppers. These peppers have a mild spice that adds a kick to dishes. Anaheim peppers can be used in various recipes, including salsas, casseroles, and stir-fries.
How do you pronounce gypsy peppers?
Gypsy peppers are pronounced jip-see pep-pers, articulating each syllable.
🙋 FREQUENTLY ASKED QUESTIONS
FAQ about gypsy peppers
Are gypsy peppers hot?
Gypsy peppers are not hot; they are quite mild. They are on the lowest end of the Scoville Heat Scale with 0 SHU, similar to bell peppers. Their heat is barely detectable, making them an excellent choice for individuals who enjoy the flavor of peppers without spiciness. They are often preferred for their sweet flavor that adds depth to culinary preparations.
What's the difference between the gypsy pepper and the banana pepper?
Gypsy peppers and banana peppers, though sharing similarities, are distinct in various aspects. In terms of shape, gypsy peppers usually display a wedge-like shape and possess more delicate, thinner flesh. In contrast, banana peppers are longer and resemble bananas. They also diverge on the Scoville Heat Unit (SHU) scale, with banana peppers ranging from 0-500 SHU, indicating a hint of spiciness in some varieties. In contrast, gypsy peppers register a flat 0 SHU, signifying mildness. As for flavor, both peppers are sweet and tangy, yet the sweetness is often more pronounced in gypsy peppers, intensifying as they reach full ripeness.
What's another name for gypsy pepper?
Gypsy peppers are often called Gypsy Sweet Peppers or Sweet Gypsy Peppers, underscoring their mild and sweet characteristics. Yet, the term "gypsy pepper" remains their most popular moniker; it's attributed to the pepper's lively transformation in color, evoking parallels with the vibrant, transient Gypsy culture. Notably, some might confuse gypsy peppers with Cubanelle peppers due to certain similarities, but they are, in fact, different types, each with distinct qualities and flavors.
What flavor is Gypsy pepper?
Gypsy peppers are celebrated for their mildly sweet and crispy, refreshing flavor. Additionally, they have a delicate taste, offering subtle sweetness and slight tartness. This unique flavor profile enhances as the pepper matures, becoming more pronounced when the pepper ripens from yellow to orange and deep red.
Do gypsy peppers turn red?
Yes, gypsy peppers do turn red. They start their maturation process with an ivory or pale yellow color and then transition to orange as they ripen. Eventually, they achieve a vibrant red when they are fully mature. The color change also coincides with a change in flavor - they become sweeter and more flavorful as they mature.